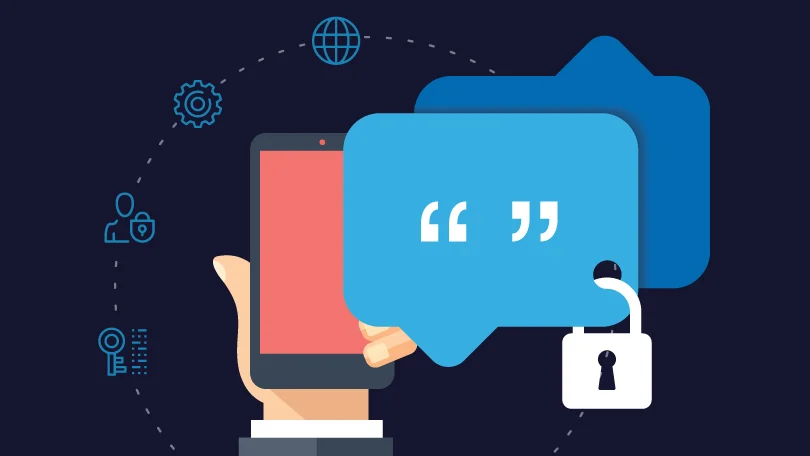 Easy-to-use
One click, and share the link. Sending text messages securely has never been that easy! Messages are encrypted in your browser, so you don't have to download any software or app or sign-up with your phone number. Create a secret message and share the generated URL. A beautiful, eye-soothing chat interface with minimalistic, intuitive design allows users to set up private conversations within seconds.
In-browser encryption & security
Duckist.com integrated front-end encryption to make the magic happen right in your browser. Neither hackers or our developers have access to any of your secrets. Your message can only be accessed by a unique link and decoded on the receiving end.
Free anonymous chat rooms
What is the fastest possible way to set up a chat for any type of discussion? Create a free online anonymous chat room with Duckist.com in seconds. No restrictions on the number of users. Works perfectly for mobile and desktop. Fully private & anonymous. Just share your chat with desired members to add them. You don't have to share personal data with us. And yes, it is absolutely free.
Self-destruct text & secrets
Set the lifetime for your secret message or chat. Self-destruction feature will safeguard any sensitive information from security breaches or phishing attacks. If your email is cracked, the hacker will get nothing but an expired link. Sharing any secrets from logins to files using Duckist.com keeps your vulnerable data safe even in the worst-case scenario.
We collect users, not their data
Our philosophy is simple. Secrets shall not pass to anyone! That is why we don't require registration, don't ask for unnecessary downloads, cookies, or access to your contacts, files or camera. We are privacy absolutists.
Communications for teams & business
Deploy our encrypted chat engine & secret sharing solution to meet your team's security needs. Prevent phishing attacks and improve communications depending on the size of the organization and the nature of use.
Secure therapist chat room
Seeking high-level privacy that doctor and patient should stick to? Duckist takes care of secrets while improving quality of life and mental health. Even during the online therapy patient remains within comfortable conditions, when he knows - his secrets are safe. Duckist chat room provides safe free and anonymous tool for psychology therapy online.
Customer care
Looking for the best live chat customer service software for business? Keep your client conversations smooth and secure with Duckist.com, while sending vulnerable data, files securely between customers and businesses.
Study chat rooms
Develop a strong and coherent study environment to get better knowledge. Build up the learning interplay between teachers and students with a secure and lightning-fast chatting solution.
Healthcare
Communicate with your patients and keep their health history discreetly private. Book appointments using a safe communication network and increase the overall engagements.
Corporate Communication
Secure chatting services can be used in a business to send confidential information between employees. This can help to keep the information secure and prevent it from being accessed by unauthorized individuals.
On-demand IT solutions
Any online business benefits from an easy and secure chat solution. Duckist.com is here to maintain safe conversations with the latest innovations in information technology. Encourage your IT technicians to use safe means of communication to prevent any sensitive leaks.
FAQ
Do you need to download and install any software?
There is no need to download and install any software as Duckist is a web-based encryption service. Users can open up the interface on the website and encrypt their chats within seconds.
What is front-end encryption?
In plain words, Duckist.com front-end encryption allows our chat technology to cipher all messages right in your browser. No one, even our team, can access your secrets.
Do you need a phone number to use Duckist secure chat?
No. Duckist.com allows you to use encrypted messages and chat without giving up your phone number or any other personal data.
Is Duckist chat & secret messenger free?
Yes. You can use, Duckist.com for free chat rooms, messages, passwords & secrets sharing. If you want to integrate the solution into your business and create a secure on-premise network. Contact Us.
Why do you even need a secure chat?
The key reasons are to prevent e-mail fishing, data breach, identity theft, etc. To know more read our blog post about why do hackers want your email & what can they do with it ?